GiBiDi Floor 830 Kit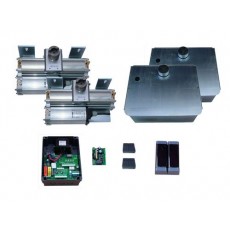 Product Code:
GiBiDi Floor 830 Kit
A selection from our range of gate automation products.
FLOOR 830 System
1 x BA230 Professional Control Panel
1 x reciever
2 x 2 Channel Transmitters (433 mHz)
1 x Pair F200 Photocells
2 x Self Supporting Galvanised Foundation Boxes (600kg)
2 x Floor 830 Hydraulic Jacks (180 deg )
This kit is supplied with the BA230 professional LCD control panel which offers many programmable options including slow down open/close. It also offers the facility for safety edges to be connected to provide anti crushing which addresses requirements of EN12453.