Details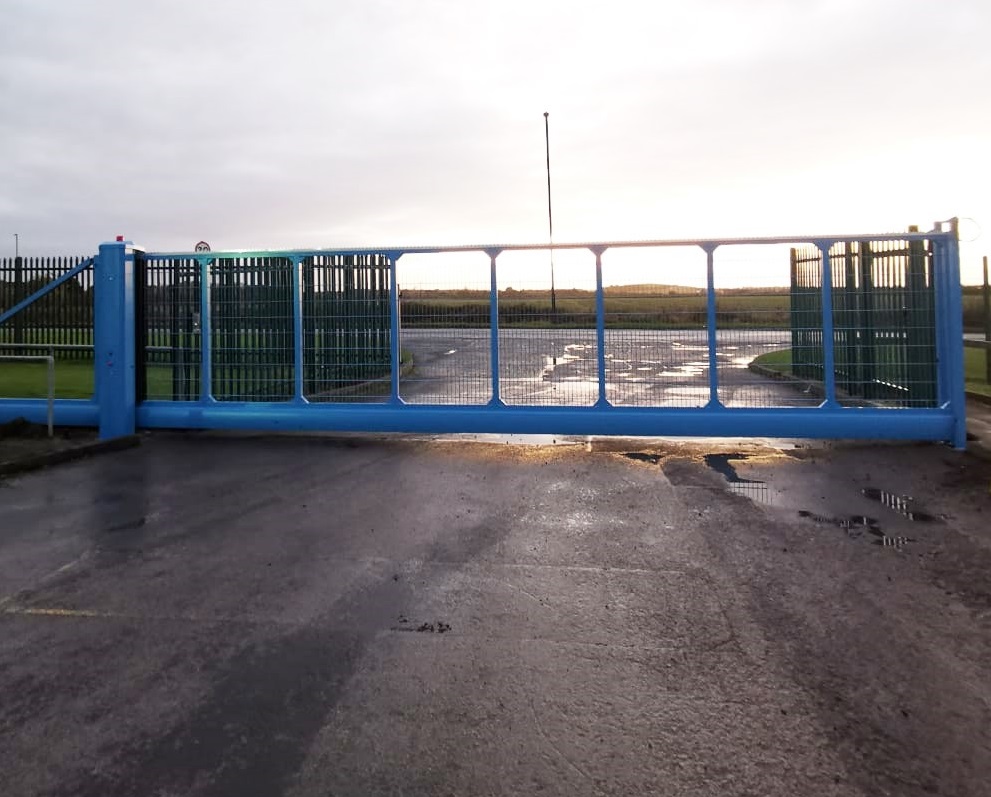 Our sliding cantilevered gates Product code ASIC 10M are becoming an increasingly popular option due to the lack of disruption caused on site during the installation.  The Cantilevered gate we supply comes with automation already built in, allowing the gate to be set into place and functioning within a couple of hours.   
On our most recent installation, engineers spend an afternoon removing the old gate and preparing the site for delivery of the gate the next morning.  The gate was delivered to site, set into place and was operational within 2 -3 hours.  This was of utmost importance to our client who has heavy traffic flow through their one and only entrance to site.  The sliding gate was then connected to the existing Intercom and Access Control System and fitted with safety edges to ensure it met EN12453  Regulations.    
We worked closely with our client, as always, during the design and plan of the installation.  Our client decided on a bright coloured gate to ensure it is easily identified by drivers accessing the site in all types of weather and lighting conditions, in the hope of avoiding accidential damage to the gate by heavy goods vehicles entering the site on a 24/7 basis.
The entire installation, including removal of the old gate, connection of the new gate to the existing Access Control System and all necessary tests completed in three days, with only 2-3 hour disruption to traffic flow during this time. 
The Cantilevered sliding gate is available is many colours to compliment the site and you can choose from a range of infills to match or compliment existing fencing and surroundings.  Please don't hesitate to contact us for further details, using product code ASIC 10M as a reference.  
Details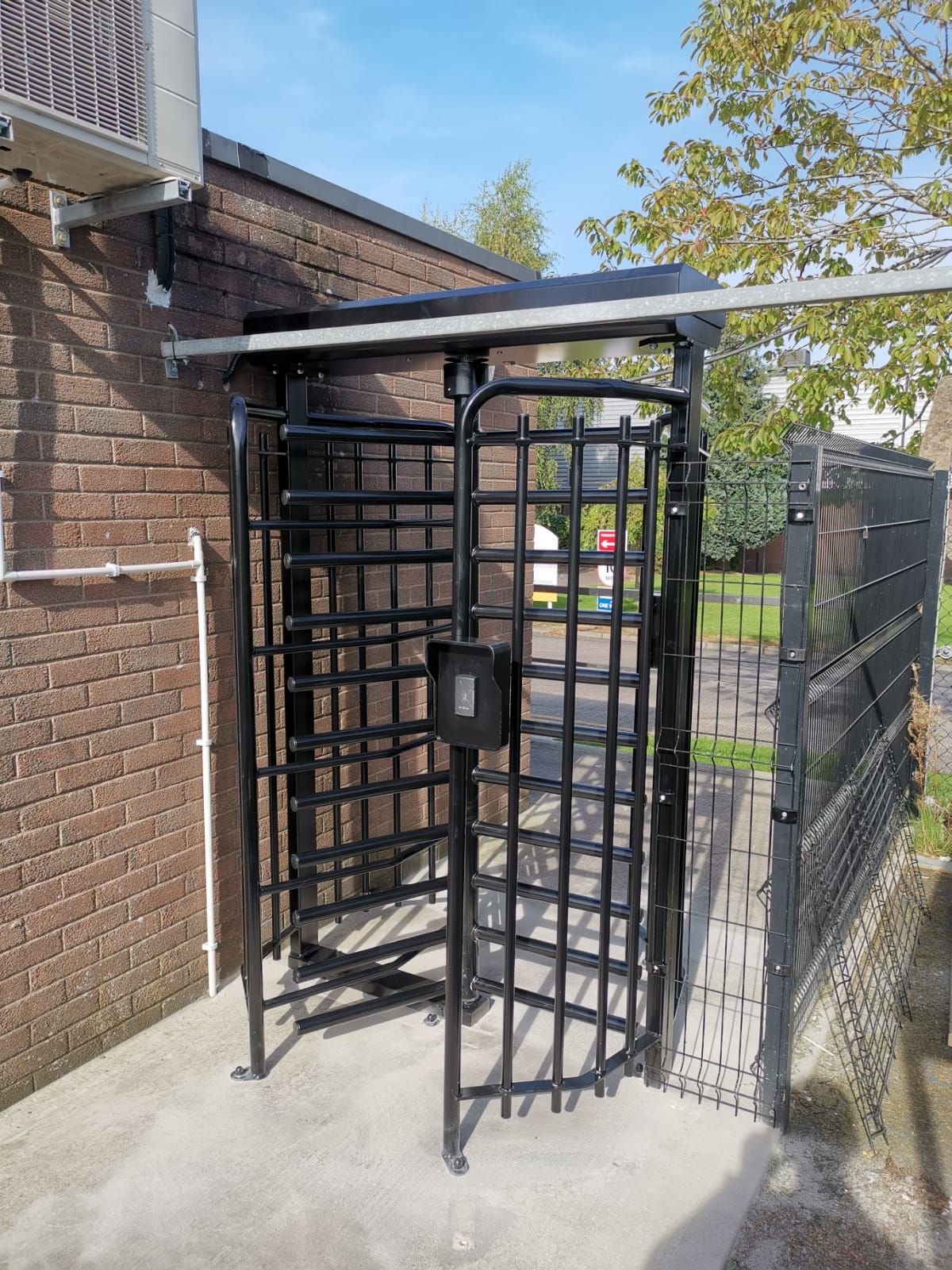 As our business name suggests, we deal with all things Access Control related.
We are most commonly known for automated gates and barrier installations, but are you aware that we also supply and install automated turnstiles.
Is your premises in need of some crowd control, or do you require a log of all authorised personnel on the premises at any given time? 
Perhaps you have a sensitive site which is regulated such as food production or a security sensitive site where only authorised individuals should have access, and unwanted individuals are kept at bay.  
If so, we are sure to have options for your consideration with regard to monitoring and authorising access to your site, whether it is required externally before entering the site or internally within the building. 
We recently installed a full height automated turnstile to a food production plan.  Our client has an automated barrier and CCTV already in place at the site entrance to allow them to monitor and control traffic accessing the site.  Our client had a need for pedestrian entrance control to ensure only authorised personnel were entering the manufacturing plant on the premises.  After careful consideration and discussions with our client, a full height 3 wing automated turnstile was installed with a pass rate of 15 - 22 persons per minute. The turnstile was installed with a card reader and only authorised individuals were issued with swipe cards allowing them access to the plant.  The turnstile had a fire alarm activiation programmed so that free rotation would engage in the event of a fire and a counting module was also fitted to the turnstile to allow effective monitoring and recording of all persons on site at any given time. 
The turnstile was designed with a safety system to ensure the impossibility of getting stuck in the turnstile and a manual unlocking system fitted. 
The installation was started and completed in one day, ensuring minimal disruption to our client's site and production facility. 
Details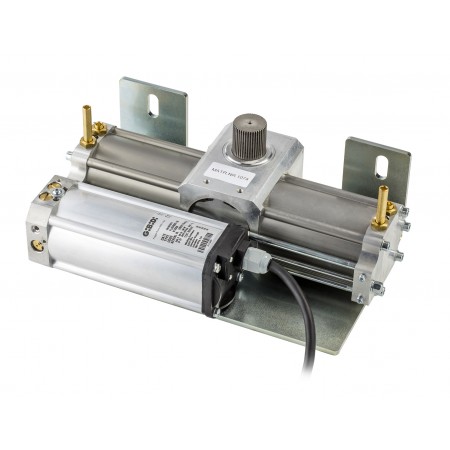 GiBiDi have released the new and upgraded Floor 880 underground motor, in stock and available from Access Systems Ireland Ltd.
The GBD Floor 880 motor has been introduced as a direct replacement for the Floor 830 underground motor, with the same opening angle (180°) and mechanical speed.  The new features are as follows:-

 - Upgraded trust bearing
 - Upgraded gear box
 - Upgraded seals on shaft bearing
 - New design of the upper alumium body
Contact us with any queries or quote requests that you may have by emailing This email address is being protected from spambots. You need JavaScript enabled to view it.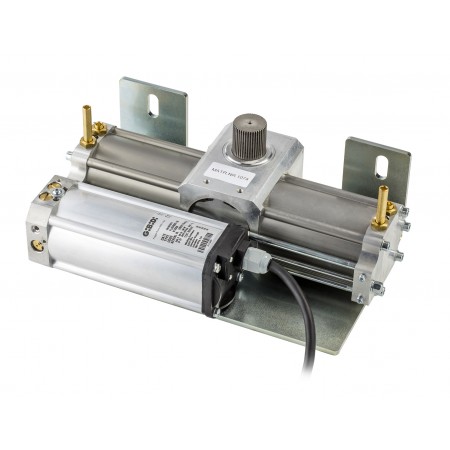 Details
Introducing the Roger Technology 8M Bionik Brushless Barrier
We are proud to be distributor of Roger Technology automation products throughout Ireland.
Roger Technology are an innovative company offering continuous creative products.  As a result of their innovation Roger Technology have now launched an 8 metre brushless barrier as an addition to their existing Bionik barrier range, offering a sturdy and elegant solution to manage access to commercial and industrial sites and large logistic premises.
Features include:
 - 36V brushless motor - unlimited use of barrier with reduced power consumption
 - Advanced digitial controller - easy to access but well protected
 - Gear Motor - made entirely of aluminium, steel and bronze
 - Resistance structure - designed to make barrier structure resistant to a wide range of atmospheric agents
Contact us for further details by emailing This email address is being protected from spambots. You need JavaScript enabled to view it.
Details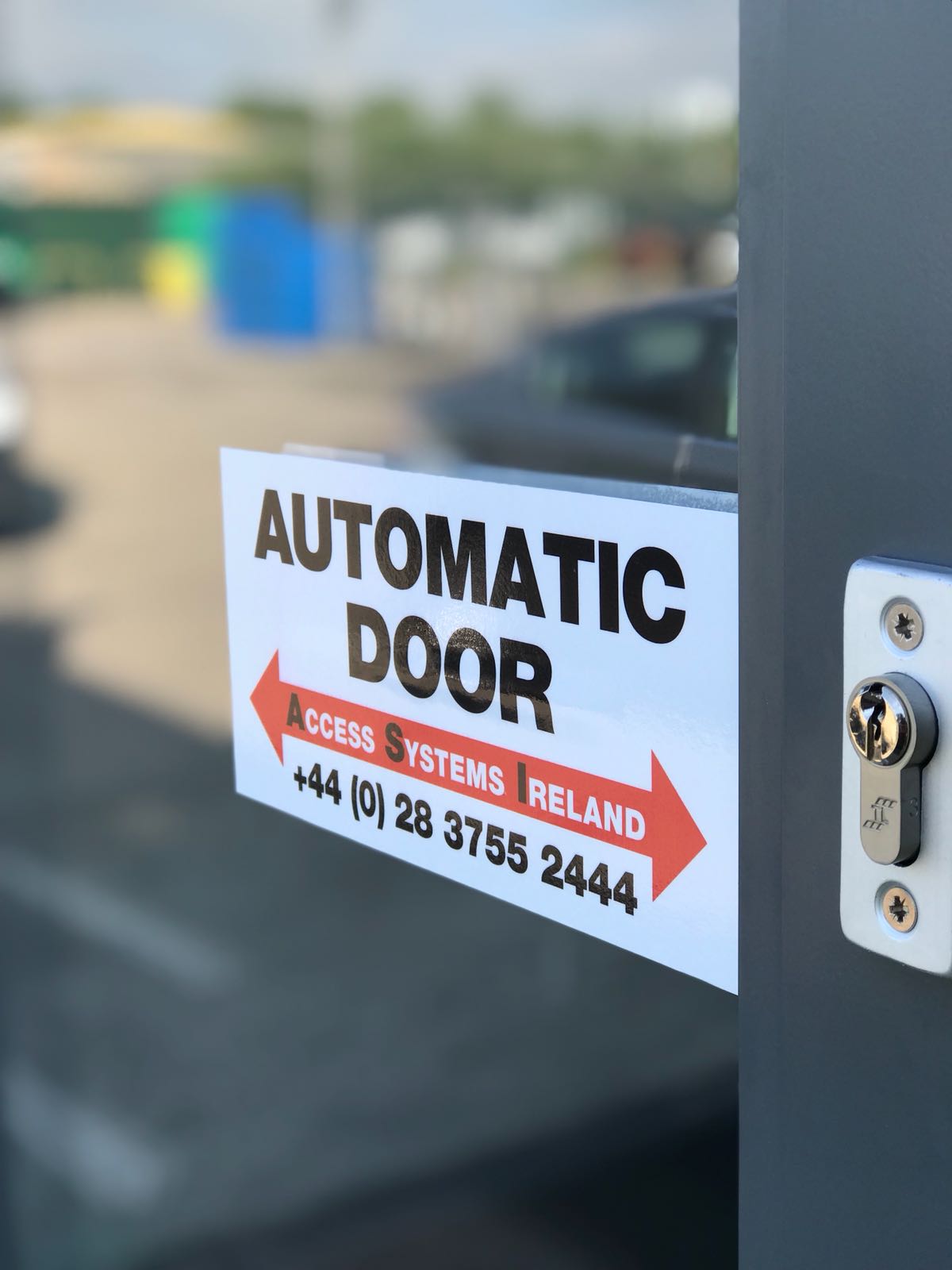 Some images of a recently completed door automation installation.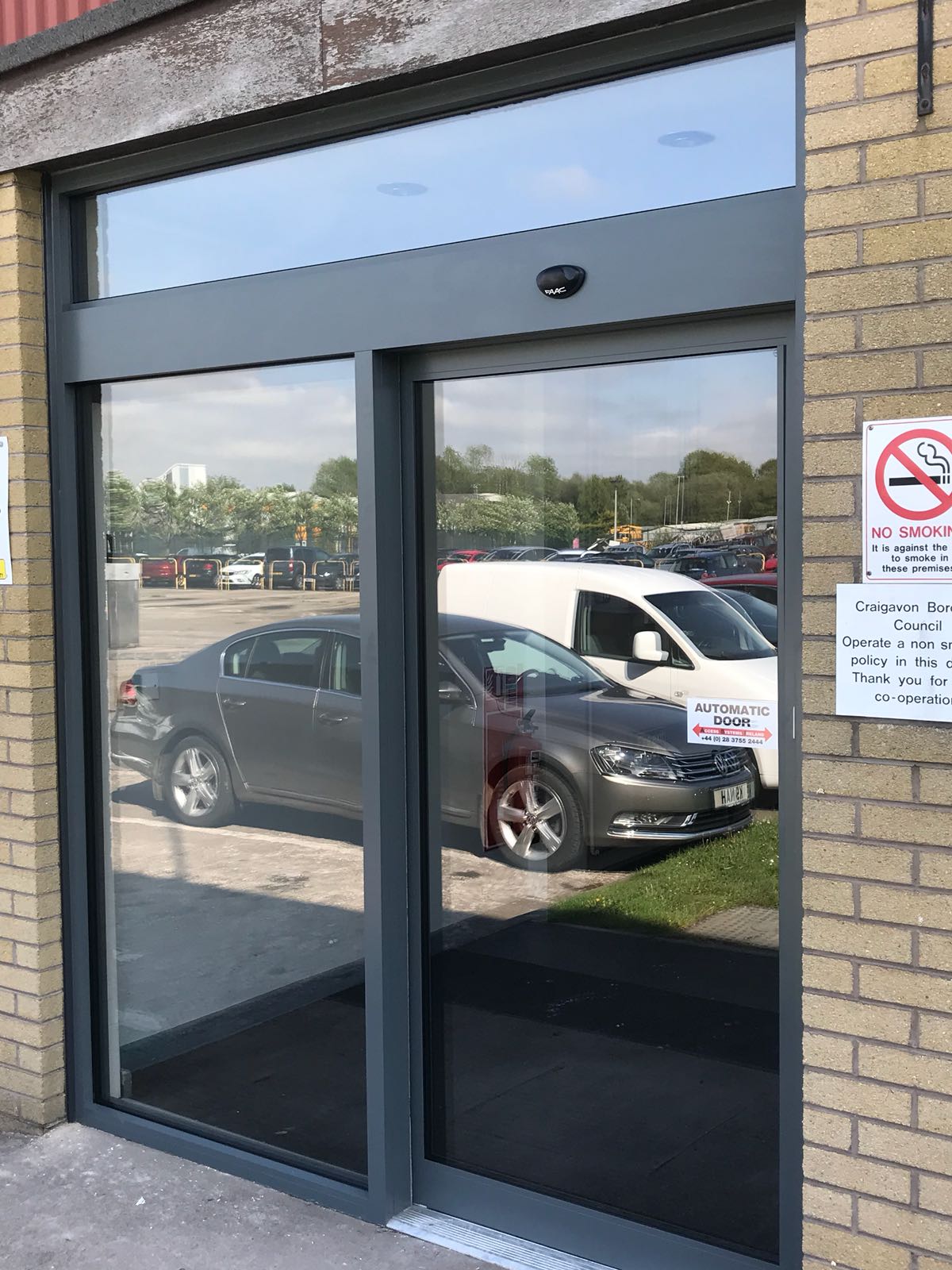 The contract included removing the existing doors at reception and installing an automated alumnium sliding door with panels to suit the existing opening.  Features includied radar units to detect people approaching, including a presence detector to avoid the doors closing on pedestrian's, continuous duty cycle (to support the constant footfall) and adjustable fast/slow speeds.  The automation was supported with a fully monitored battery back-up system to ensure the doors open in the event of a power failure and fire alarm activation.